Kathy Newlsetter/ Jan 2018
Hi everyone.
It's a brand new year. Scary, (way too fast) and thrilling.
I have so many teaching trips this year. Exciting places I have never been..... MQX in New Hampshire and old favorites like Indiana Heritage and Fall Paducah among many many more. Our Quilting cruise this year is from Seward Alaska to Vancouver B.C. It's in August, so it is going to be beautiful. Swim in the pool up top while watching sea otters play below. We will have two classes days while we are at sea and the rest of the time we have great stops in ports. I just signed my grand kids up for sled dog riding and musher camp in Juneau.


Hope we meet up somewhere.
http://www.quiltcruises.com/cruises/Alaska-Cruisetour-2018/
http://www.mqxshow.com/MQX/East/Home/
https://www.ihqs.org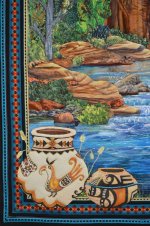 If you follow me on Facebook, you saw my new landscape" Sacred Places" 40 x 47 in progress. - Kathy McNeil Art Quilts
This scene was inspired by the dazzling colors while hiking in the Sedona area. I was very surprised about how much green there was. Rocks are some of the hardest things to make in landscapes and this was a real challenge for me. Seven little Kokopelli's are hidden in the rocks along with machine quilted petroglyphs. Kokopelli is a bit of a trickster and symbolizes bountiful harvests and fun. The images on the pots are inspired by traditional S.W. art. They were too tiny to applique, so I painted them on with intense pencils.
Here is the link to find the inktense pencils in my store. There is a free video on my website to watch how to use them.

https://www.kathymcneilquilts.com/shop/Fabric-Paint-Crayons-Art-Media-Supplies/p/Ink-tense-8-piece-color-set-x10702215.htmMachine
Teaching tips -

Lets' talk about machine applique versus hand applique. Your preference may come down to speed of finishing, arthritis in your hands, or simply what you love but...... I also like to think of it in terms of the visual look each technique creates.
When I am creating small floral units or collaging a section of bushes in a landscape, I don't want a thread line to create a hard visual edge between petals or bushes. If I am making a building or something architectural then having a more visually defined edge is helpful. So when I want a soft edge between parts, I always hand applique with 100# silk thread. When I want to add visual texture or definition, I machine applique with 60# thread in the top and the bobbin. Turn down your top tension and then try my flat narrow zig zag stitch. This stitch is a great way to cover fused raw edges so they don't become more frayed or lift up. We carry both of these weights Superior thread in our web store.
Check out this short video to watch the technique I use.
https://youtu.be/wm_0X2ru75M

This month we are offering a special sale. Your choice of one of these three floral wallhanging patterns along with a basic kit of Apliquick tools for $59.95. A savings of $9.00.
https://www.kathymcneilquilts.com/shop/Applique-Patterns/p/Floral-block-and-Basic-Kit-x32070699.htm
The Basic Kit has the two turning rods, 1 unit of interfacing, a glue pen and one refill. The patterns were published with lots of details photos and instructions by AQS. They are usually $13.95. Any one of these floral bouquets will give you the opportunity to practice hand applique and machine applique. I machine appliquéd the oval frame and the OPTIONAL corner units. Please indicate on the order which of the patterns you chose so we can send you the right one.
Ribbons and Things.

My sweet Celtic Fox won a second in Fantasy at Road to California and my Draft horse team won first in the Animals section. Pretty wonderful. Congratulations to everyone who entered. Road also let viewers on line and at the show pick their favorite quilt. I think that is an exciting new trend that will involve more people and let a wider community see the talent and diversity in the contemporary quilt world. So a special congratulations to Marva-Lee Otos for her Viewers Choice "Your Place or Mine".
Hugs to all. Stay healthy and keep quilting.
Kathy