Kathy's newsletter/Gifts of love
Hi Quilting Friends;
I hope your summer started off with a dazzling display on the 4th of July. A special day and one that always reminds me to be grateful for individual freedom to express ourselves, peace, and access to good health care. My oldest daughter Shona leaves today to volunteer medical care in Haiti. She is taking a suitcase of needed medicines and will be working in remote villages. She is a nurse practitioner. I am very thankful for compassionate loving people who give so much. It is one of the proudest things about being a Quilter for me. Every time I go out to a guild, I hear about the impact their gifts of love have on the many recipients. My last trip before summer vacation was to Lynden, WA. The quilters there made quilts for women who were fleeing from sex trafficking.
Quilts carry love in every stitch.
Today I get to give a gift of love to my kinda like, almost, third daughter. I'm hosting her wedding shower. She and her fiancé are Jewish and I wanted to make them something traditional that reflected their culture and religion. So I made a Challah cover. It covers the bread during Shabbat. The lettering says Shabbat Shalom. A wish of peace. They traditionally include hand embroidery. This design is my own, inspired by many I saw on Pinterest.
It is my first time doing match stick quilting along the borders. First, I drew on the interior scallops and then filled them in with straight lines about 1/8" apart. It really is a dramatic and easy free motion fill. 3/4 inch lace was straight stitched over the seam allowance between binding and cover cloth. I thought this added a look of traditional linens.
Another fun thing to try is
Shadow Trapunto.

It works very well if you have a light enough top for color to shadow through. I cut out block Hebrew letters from dark purple felt. These were glue basted over the batting and under the quilt top. When you outline quilt the letters, it really puffs up the lettering and will show a bit of color through.
Consider this technique
for important dates, lettering, and even subtle images in pieces that you are making for special occasions.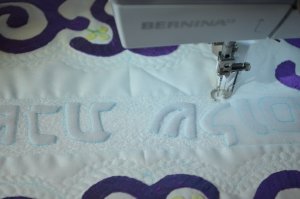 Well, I can't wait to see her face this afternoon. As we all know - giving can be way more fun than getting.
Bruce's gardens around our house are filled with color this year. I am so glued to my studio but I love eating on the deck and reveling in all that color. I am very thankful for his green thumbs too.
Special sale on Apliquick interfacing
. We want you stocked up for now and for fall and so we have the 3 unit cuts of interfacing on sale for $19.99. It is usually $24.00 Here is the link if you are getting low and want to grab some.
July 7th to the 12th.
https://www.kathymcneilquilts.com/shop/Apliquick-tools--supplies/p/3-units-Interfacing-x23092342.htm


Hopefully, I will get to see some of you this Fall. I will be at Fall Paducah and at Fall MQX.
Click on video link below for classes.
https://youtu.be/oHS29qczJzY

Fall Paducah.11th-16th
Multiple Workshops
Click link below for more information
http://www.quiltweek.com/locations/fpah18/
MQX Springfield, IL
Multiple workshops


for more information click below


http://www.mqxshow.com/MQX/Midwest/Home/


A big hug for you all.


Kathy.