Spring news/ Kathy's newsletter
Spring Greetings.


I do hope spring has arrived at your house too. Bruce is loading up the deck planters and I finally have a bit of color everywhere. My wonderful man is turning 70 this week. The grand children have been reassuring him that he " isn't that old". Certainly not, because while I was teaching for the guild in Tucson, he went MOUNTAIN biking. I admit I had images of him coming home looking like a porcupine had attacked him after falling into a cactus. He returned triumphant even if he was the oldest guy on the trail. Thank you Tucson quilters for a great time. This guild does so many good things in their community. I was inspired by their energy. They had small quilts hanging in the airport, and plans for a Quilt show in the Botanical Gardens. Such a great way to educate the public on quilting in the 20th century.

So how have things changed? We all know the diversity and talent that exists in our current quilt world. The big trends that I see are, more and more painted quilts and RULER work for domestic and long arm machines. I could grumble that it is really hard to compete against something painted - vs - something hand appliquéd with small bits of fabric. But if arts and crafts are to stay alive, they need to grow and evolve. We need to attract new people, re-energize our current quilters, and see where all that talent takes us. Those painted flower quilts are astounding to look at. I love them!

I quilt my own quilts on a Bernina 750. The trend towards looser Quilting designs really appeals to me. Truth be told, traditional symmetrical designs intimidate me with their repeated, perfect shapes. I'm really getting into these looser designs. Try some doodles. Look at Zen Tangles for inspiration.




So, so many of you have asked for this........ so I am on it!! My new DVD "Quilt it Modern" for domestic machines

will

come out this summer. Chapters include: The Basics - needles, threads, batting and basting, Tips for Free Motion Quilting, Trouble Shooting, Traditional vs Modern Designs (including practice PDFs for you), Quilting Pictorial Quilts, Quilting a Modern Quilt, Beginning Ruler Work, and much more. You all will be the first to know when it is launched.



Ribbons and Things



"Artistic License" won the Photographers Choice at MQX and I just got news yesterday that "Spring Harmony" won something at Spring Paducah.
Winter was so brutal across the country this year. I think those cherry blossoms did it.


There are quilted Motifs in the top border. Hard to see in the full photo and blurry in the detail (sorry) but I wanted to throw out a...

...Tip
Quilted images that are complex may need to be traced. Instead of trying to trace onto a dark fabric quilt top, consider using Golden Threads or tissue paper! Pin the traced image to the quilt top. Decrease the stitch length on your machine. Now quilt right over the paper. You will have perforated it enough that you can pick out the remaining paper with your wonderful ergonomic Apliquick tweezers. On Sale for $25.00
https://www.kathymcneilquilts.com/shop/Apliquick-tools--supplies/p/Tweezers-x10702214.htm

Quilting Cruises.

We leave in 3 weeks for our Quilting Cruise to Scotland, Ireland, France, and Copenhagen. The response has been terrific and my classes are full.
We are so excited. I wish I could take all of my newsletter friends with me.

I always make a landscape pattern from one con my cruise classes. This one has a CASTLE. Who doesn't want to come back with their very own castle?
I have 4 left over Complete Kits from this class that include- the pattern and all fabrics for the 45 pieces in the landscape. You would have to provide your own background sky and water and the border.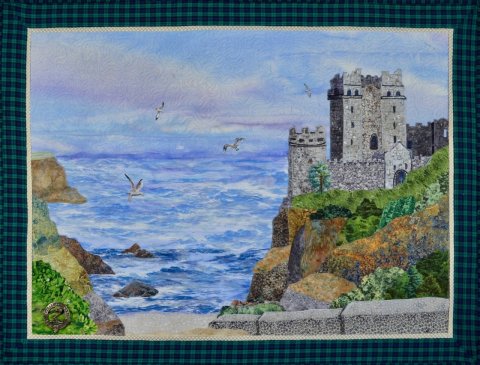 If you want one of these kits, $38.00, you will need to email me at kathymcneilartquilts@gmail.com right away.
The first 4 responders will be given a link to purchase these fabric and pattern kits.

The Castle Bay pattern alone, no fabrics is available now in my web store. $13.95
https://www.kathymcneilquilts.com/shop/Applique-Patterns/p/Castle-Bay-pattern-x40155566.htm


Thank you all for your continued support, notes, and pictures of your completed projects.
Not a day goes by that I don't appreciate finding this "life fullfilling" wonderful community and our shared art form.

hugs


Kathy