June Newsletter from Kathy
Staying connected is so important to all of us in this ongoing awful situation with Covid.
Hi everyone.
How are you all? I miss being with my Quilters. I miss my friends. I miss talking quilting with others who know what I am talking about. Bruce has a lot of knowledge about our products and technique, but he just smiles politely when I ask him - what do you think of this color and this layout? This is a stressful situation. That brings on real issues of increased anxiety, irritability and forgetfulness.
I hope you are all doing something kind for yourselves every day.

For me that has been stopping making masks, and returning to working on a new project. Teaching my granddaughters to quilt has brought me lots of joy too. I really worry about people who don't have projects, or a hobby that they love and can get lost in.
S0,
I want to share my newly begun project.
Those of you who viewed my Zoom interview with AQS saw this little girl pinned to my design wall. I had so much fun remembering lots of fun hand embroidery stitches. The coat is crazy quilted with several different prints. The red cuffs, and bottom coat trim are red silk. People complain that silk is difficult. This is a medium weight silk Dupioni backed with Apliquick interfacing. The interfacing stabilized everything for sewing and adding the embroidery stitches.
All 3 singing mice are made as independent Apliquick units. They are pinned to a rock for now, and who knows where they will end up on the final quilt? I love making winter scenes. As you can see from this new update, I have started to collage rock and snow around her, with a snowy tree too.
Youtube is a great resource for crazy quilted embroidery stitches. I am so grateful, I have this new project to get lost in. Singing mice.....really... hey they make me smile and that is worth a lot these days.

My teaching Schedule.
Both of my AQS shows and all other teaching events have been cancelled this year. Gathering in large groups - inside - is the last thing that our public health officers are going to let come back. We are all skeptical that the Houston show will go forward. It will be wonderful if the numbers go down and that could really happen. Crossing my fingers and toes! I am scheduled for teaching at Road to CA in January. I love that show and am really really hoping I will see lots of you there!

Quilting Cruises
Bruce and I should be lounging in sunny Spain and Portugal right now with "Quilt Seminars at Sea", and our Apliquick partners.
We are sad about that. The world of cruising has been hit hard by this virus. Our next scheduled Quilting Cruise is to South America next February??.

One of the projects I created for this years cruise, was a really fun, funky, lucky, ROOSTER. I have 21 kits available

on sale now for $28.00

to my newsletter subscribers.

They will go fast! https://www.kathymcneilquilts.com/shop/Kits/p/Lucky-Rooster-Kit-x50203398.htm


Lucky Rooster kit includes: 13" x 14" Rooster pattern, fabric kit including the black body and all 14 fabrics to complete the Rooster, gold seed beads, reverse image pattern page to fuse the smaller details, and instructions.

The Galo de Barcelos rooster represents honesty, trust, integrity, and honor. It is thought to bring good luck. Personalize your rooster with decorative fabrics, beads and hand embroidery.
Our lucky Rooster will be made as a unit ready to be placed on the background of your choice.

Let him star in a block surrounded by other farm animals or prints,

He can be used as a stand alone wall hanging.

Enlarge the pattern for a center block, add 4 to the corners , (reverse image on two of the corners). Add a pieced background or design your own blocks.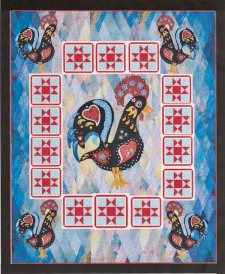 Another tip.
Superior Threads has created a 100# polyester thread.
If you have difficulty with, or don't like the sheen of invisible poly threads for machine quilting/applique, give this thread a chance. I think

MicroQuilter is a great choice for micro stippling, detailed quilting, stitch in the ditch quilting and Machine Applique. It's a nearly invisible, smooth polyester thread that blends incredibly well into fabric.

Bruce and I want you all to find alittle peace and happiness each day. Big hugs Kathy