Skip Navigation
Website Accessibility
September newsletter/Kathy McNeil
Greetings dear friends.
Guess who showed up at my (almost) house a couple of weeks ago? Was it a small westtie terrier? It hopped like a rabbit, and had the weirdest furry little face. All White..... hanging out with all our wild cotton tail bunnies. The kids ran all around after it, and finally it hopped up to them and we caught it. Certainly a rabbit, but nothing like I had ever seen. So we are introducing - Ari, our new family member. He is a lion head rabbit (according to the vet) and was just crawling with fleas. Poor little guy. We think he may have been dropped off and abandoned in our pasture. The little guy is now living high. He has a large outdoor enclosure with an insulated hut. We have leash trained him and think he is the cutest guy around.
School days have begun and fortunately I will be moving out of my daughter's living room soon. 3 desks have arrived and they are waiting to set them up as soon as we get our final inspection and move to our house. Maybe two weeks? Good thing, because the furnace in our 34 year old small trailer has given up the ghost!
If you are one of my Facebook friends you saw the latest piece of Art I made for my walls.

I had 8 shares and hundreds of responses. It was easy and fun using Mod Podge and strips of wood. There are three 3" by 4', and two 2" by 4" strips for variation. I used varying widths of fabric strips of my precious Australian fabrics, Kaffe prints, dots, and geometrics.
Click here for directions.


Remember the pain I shared last month?
How is Art created? With lots of persistence....... filled with discouragement and joy.
A new month, several red-do's, starts, stops and support from family. The new Santa Face.
It is as good as I am capable of making at this stage of my experience. I am embracing it as is. He still needs the hat and beard completed. Then I will sew on his head, poor fellow.
This one was really hard!!!!! Back to bunnies for me.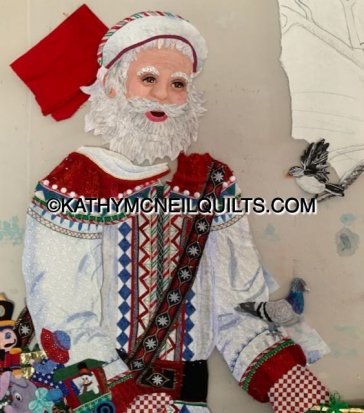 To celebrate, we are putting my beloved paint crayons on sale for three days. $39.99
https://www.kathymcneilquilts.com/shop/Fabric-Paint-Crayons-Art-Media-Supplies/p/Fabric-paint-crayons-x10702210.htm

10 Swiss made professional paint crayons. Wonderful for use on fabric and heat set permanent.
Set includes instructions, a mixing palette, a fan brush for grasses, trees, ripples and an angle brush for doing small details. They are Light fast and easy to use. These crayons do not dry out or get gummy like fabric paints. They last forever with very vivid pigments. You can paint right in your studio,with no need for ventilation like dyes. I use these every day in my work.
I painted my face with them . They sit right on my applique table, with a spray bottle of water so I can deepen a color, change the hue of a print or over-dye fabrics that I love the print or texture of but the color is just not right. These crayons augment and increase your fabric stash. I have been using them for over 4 years on my competition quilts.

We are also putting our medium size three hole ergonomic scissors on sale. $45.99 https://www.kathymcneilquilts.com/shop/Apliquick-tools--supplies.htm
If you hand is hurting, or your thumb gets sore...These scissors are for you. So much kinder on our hands with this design.

I heard from two more friends today who are now positive for Covid. Please get your flu shots this year when they become available (October). They will be more important than ever, and stay safe.

Hugs to all.
Kathy