Skip Navigation
Website Accessibility
Kathy McNeil's August newsletter
Greetings everybody!
Summer is coming to an end. It was so nice to be outdoors enjoying the birds and beautiful flowers. Bruce and I have loved landscaping our new small home. We feel so privileged to share this property with our oldest daughter, her husband, and our grandchildren. I am eternally grateful that we moved here prior to Covid, which has been catastrophic in so many ways. Certainly, for many families, seeing each other regularly.
So everyday, I try to find beauty in small things...like the humming birds that are so used to us, that they buzz by within inches. We will miss them, but I read that they come back to the same trusted feeders, so hopefully our rowdy bunch will be back next year.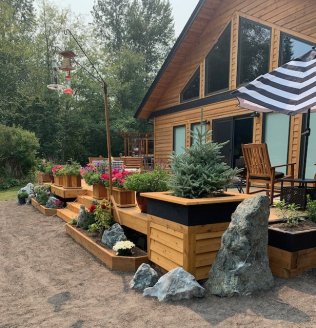 I thought I would share my tips for completing my "
Humming bird Delight"
pattern this month. Inspired by Art Nouveau, my hummers delight in feeding from gorgeous blooms. $12.00
https://www.kathymcneilquilts.com/shop/applique-patterns.htm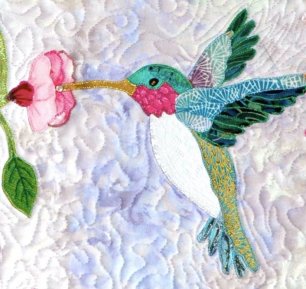 TIPS

Section the vine
in several places to save fabric. Look for joints where a flower or another branch leads off. Overlap the two ends slightly.

Wings-
how many feathers do you really need? You can make them individually as shown in the pattern for more dimension and variety, or you can simply use a small narrow satin stitch- 1.5 width 0.5 in length to simulate feathers from one piece of fabric.

Flowers-
Use 3-4 inch blossoms from printed fabric, but cut the petals apart and rearrange them in the approximate shape of the pattern blossoms. Too many floral fabrics lack realistic postures of flowers. You can recreate your own flowers with more depth and interest this way.
Other news


Zoom workshops and lectures are still coming in. It will be an interesting mix next year. About 60 % in person and 40% by Zoom.
Due to the devastating numbers of Covid cases, 3 of my in person fall visits have turned to Zoom. I will be at Road to California in Jan!
IQA Houston October show - they have alerted all attendees that they must wear masks to protect all. People will not be admitted without masks. Houston area hospitals are full and they said they may have to only allow vaccinated people to attend. Stay tuned for that information. I am waiting to see if my younger grand children are vaccinated by then, but I do have two quilts entered.
So if you are attending please take pictures for me.
December 2021 quilt cruise to the Hawaiian islands is on. All guests must be vaccinated. Many of us will have also received our booster shot by then. So if you want to stay warm in December come with me to Hawaii. There are 4 national teachers to take workshops from. Of course when we get to the islands we will be hopping off ship to see all the sites. Workshops on the way over and back. Your kits will be available the first week of October. For more information.-https://quiltcruises.com/cruises/2021/Hawaii/

We have a new shipment of the beautifully decorative Apliquick tool boxes in our shop.
https://www.kathymcneilquilts.com/shop/Apliquick-tools--supplies.htm



Hugs to all. Stay safe and if you have been in a recent Zoom workshops- Send me pictures of your completed projects. I love them!!
Kathy